EUPHORIA 60
$21,700 - $26,000 / WEEK
---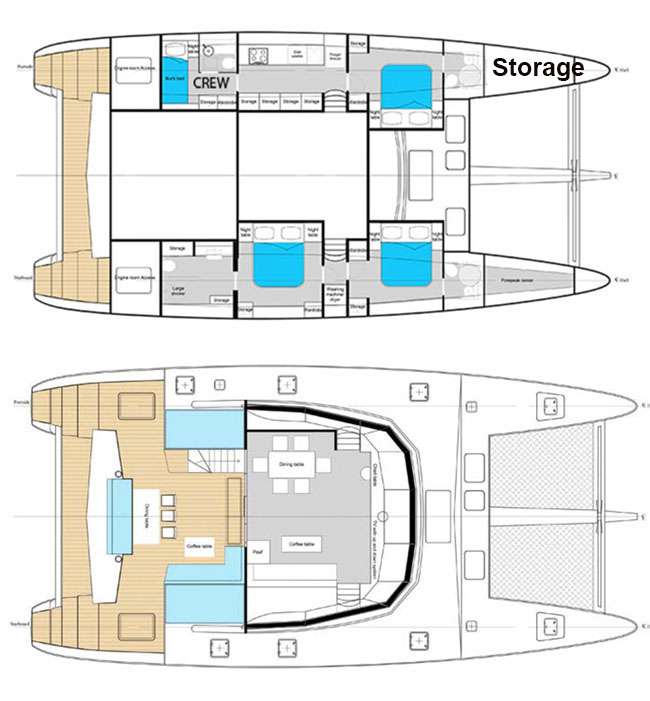 Boat Details
| | |
| --- | --- |
| Cabins: | 3 |
| Queen: | 3 |
| Single Cabins: | 1 |
| Showers: | 4 |
| Wash Basins: | 5 |
| Heads: | - |
| Electric Heads: | 4 |
Pick Up Locations
| | |
| --- | --- |
| Pref. Pick-up: | RH St. Thomas |
| Other Pick-up: | BVI, limit 7 |
---
Details
| | |
| --- | --- |
| Refit: | - |
| Helipad: | No |
| Jacuzzi: | No |
| A/C: | Full |
Engine Details
2x110HP diesels 19Kw generator
Fuel Consumption:
-
Cruising Speed:
-
Max Speed:
-
Locations
| | |
| --- | --- |
| Winter Area: | Caribbean Virgin Islands |
| Summer Area: | Caribbean Virgin Islands |
---
Amenities
| | |
| --- | --- |
| Salon Tv/VCR: | Yes |
| Salon Stereo: | Yes |
| Sat Tv: | - |
| # of Videos: | - |
| # DVDs/Movies: | 50+ |
| # CD's: | iPod |
| Camcorder: | Yes |
| Books: | No |
| Board Games: | Yes |
| Sun Awning: | No |
| Deck Shower: | Yes |
| Bimini: | Yes |
| Water Maker: | - |
| | |
| --- | --- |
| Special Diets: | Yes |
| Kosher: | No |
| BBQ: | Yes |
| # Dine In: | 7 |
| Minimum Age: | None |
| Generator: | 17kw |
| Inverter: | 5000w |
| Voltages: | 110v/220v |
| Water Maker: | - |
| Water Cap: | - |
| Ice Maker: | Yes |
| Sailing Instructions: | No |
| Internet Access: | Onboard WIFI |
| | |
| --- | --- |
| Gay Charters: | Yes |
| Nude: | No |
| Hairdryers: | Yes |
| # Port Hatches: | Full A/C |
| Guests Smokes: | Scoop steps only |
| Crew Smokes: | No |
| Pets Aboard: | No |
| Pet Type: | N/A |
| Guest Pets: | No |
| Children Ok: | Yes |
| Hammock: | No |
| Windscoops: | No |
---
Water Sports
| | |
| --- | --- |
| Dinghy size: | 15' RIB center console |
| Dinghy hp: | 60HP |
| Dinghy # pax: | 7 |
| Water Skis Adult: | No |
| Water Skis Kids: | No |
| Jet Skis: | No |
| Wave Runners: | No |
| Kneeboard: | No |
| Windsurfer: | No |
| Snorkel Gear: | Yes |
| Tube: | Yes |
| | |
| --- | --- |
| Scurfer: | Yes |
| Wake Board: | 1 |
| Kayaks 1 Pax: | No |
| Kayaks (2 Pax): | 1 |
| Floating Mats: | No |
| Swim Platform: | Scoop steps |
| Boarding Ladder (Loc/Type): | Ladder off scoop steps |
| Sailing Dinghy: | No |
| Beach Games: | No |
| Fishing Gear: | Yes |
| Gear Type: | 1 trolling, 1 casting |
| Rods: | 2 |
Captain Darren's love for the sea and sailing started when he was growing up in Seychelles, his dad is a Marine Engineer so he has been around boats all his life. He started off as a dive master working his way to a dive instructor and is now a qualified Captain for over 7 years and loves his job entirely. He has done 3 Atlantic crossings and has roughly over a 100 000 miles behind him. Darren also enjoys Surfing, spearfishing and free diving

Nicilla, our chef / first mate, has always been passionate about being by the ocean, working as a Life Guard at her local beach as well as taking on surfing in most of her spare time. She started working on Yachts in 2014 and has loved it ever since. She is passionate about her cooking and loves coming up with new and exciting things, Darren being her loyal tester.

They met in South Africa in their home town back in early 2013 where they fell in love and came to work here together, they have been inseparable ever since.

Together they strive to give the guests the best holiday possible , something that will be remembered far in the future. They both love what they do and can't wait to share it with you.

| | | | | | |
| --- | --- | --- | --- | --- | --- |
| Season | 2 Pax | 3 Pax | 4 Pax | 5 Pax | 6 Pax |
| Summer 2017 | $22,000 | $23,000 | $24,000 | $25,000 | $26,000 |
| Winter 2017/2018 | $22,000 | $23,000 | $24,000 | $25,000 | $26,000 |
| Summer 2018 | $22,000 | $23,000 | $24,000 | $25,000 | $26,000 |
| Winter 2018/2019 | $22,000 | $23,000 | $24,000 | $25,000 | $26,000 |
(15 December -30 April)
Caribbean Virgin Islands
(1 May - 14 December)
Caribbean Virgin Islands
| | | | | | | | | | | | | | | | | | | | | | | | | | | | | | | | |
| --- | --- | --- | --- | --- | --- | --- | --- | --- | --- | --- | --- | --- | --- | --- | --- | --- | --- | --- | --- | --- | --- | --- | --- | --- | --- | --- | --- | --- | --- | --- | --- |
| Oct 2017 | 1 | 2 | 3 | 4 | 5 | 6 | 7 | 8 | 9 | 10 | 11 | 12 | 13 | 14 | 15 | 16 | 17 | 18 | 19 | 20 | 21 | 22 | 23 | 24 | 25 | 26 | 27 | 28 | 29 | 30 | 31 |
| Nov 2017 | 1 | 2 | 3 | 4 | 5 | 6 | 7 | 8 | 9 | 10 | 11 | 12 | 13 | 14 | 15 | 16 | 17 | 18 | 19 | 20 | 21 | 22 | 23 | 24 | 25 | 26 | 27 | 28 | 29 | 30 | |
| Dec 2017 | 1 | 2 | 3 | 4 | 5 | 6 | 7 | 8 | 9 | 10 | 11 | 12 | 13 | 14 | 15 | 16 | 17 | 18 | 19 | 20 | 21 | 22 | 23 | 24 | 25 | 26 | 27 | 28 | 29 | 30 | 31 |
| Jan 2018 | 1 | 2 | 3 | 4 | 5 | 6 | 7 | 8 | 9 | 10 | 11 | 12 | 13 | 14 | 15 | 16 | 17 | 18 | 19 | 20 | 21 | 22 | 23 | 24 | 25 | 26 | 27 | 28 | 29 | 30 | 31 |
| Feb 2018 | 1 | 2 | 3 | 4 | 5 | 6 | 7 | 8 | 9 | 10 | 11 | 12 | 13 | 14 | 15 | 16 | 17 | 18 | 19 | 20 | 21 | 22 | 23 | 24 | 25 | 26 | 27 | 28 | | | |
| Mar 2018 | 1 | 2 | 3 | 4 | 5 | 6 | 7 | 8 | 9 | 10 | 11 | 12 | 13 | 14 | 15 | 16 | 17 | 18 | 19 | 20 | 21 | 22 | 23 | 24 | 25 | 26 | 27 | 28 | 29 | 30 | 31 |
| Apr 2018 | 1 | 2 | 3 | 4 | 5 | 6 | 7 | 8 | 9 | 10 | 11 | 12 | 13 | 14 | 15 | 16 | 17 | 18 | 19 | 20 | 21 | 22 | 23 | 24 | 25 | 26 | 27 | 28 | 29 | 30 | |
| May 2018 | 1 | 2 | 3 | 4 | 5 | 6 | 7 | 8 | 9 | 10 | 11 | 12 | 13 | 14 | 15 | 16 | 17 | 18 | 19 | 20 | 21 | 22 | 23 | 24 | 25 | 26 | 27 | 28 | 29 | 30 | 31 |
| Jun 2018 | 1 | 2 | 3 | 4 | 5 | 6 | 7 | 8 | 9 | 10 | 11 | 12 | 13 | 14 | 15 | 16 | 17 | 18 | 19 | 20 | 21 | 22 | 23 | 24 | 25 | 26 | 27 | 28 | 29 | 30 | |
| Jul 2018 | 1 | 2 | 3 | 4 | 5 | 6 | 7 | 8 | 9 | 10 | 11 | 12 | 13 | 14 | 15 | 16 | 17 | 18 | 19 | 20 | 21 | 22 | 23 | 24 | 25 | 26 | 27 | 28 | 29 | 30 | 31 |
| Aug 2018 | 1 | 2 | 3 | 4 | 5 | 6 | 7 | 8 | 9 | 10 | 11 | 12 | 13 | 14 | 15 | 16 | 17 | 18 | 19 | 20 | 21 | 22 | 23 | 24 | 25 | 26 | 27 | 28 | 29 | 30 | 31 |
| Sep 2018 | 1 | 2 | 3 | 4 | 5 | 6 | 7 | 8 | 9 | 10 | 11 | 12 | 13 | 14 | 15 | 16 | 17 | 18 | 19 | 20 | 21 | 22 | 23 | 24 | 25 | 26 | 27 | 28 | 29 | 30 | |
---