KARIZMA
$16,000 - $20,000 / WEEK
---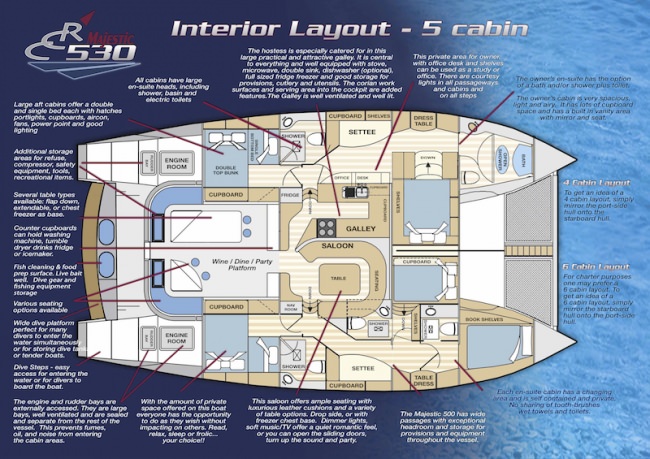 Boat Details
| | |
| --- | --- |
| Cabins: | 4 |
| Queen: | 4 |
| Single Cabins: | 1 |
| Showers: | 4 |
| Wash Basins: | - |
| Heads: | 4 |
| Electric Heads: | 4 |
Pick Up Locations
| | |
| --- | --- |
| Pref. Pick-up: | Red Hook, St. Thomas |
| Other Pick-up: | West End, Tortola |
---
Details
| | |
| --- | --- |
| Refit: | 2015 |
| Helipad: | No |
| Jacuzzi: | No |
| A/C: | Full |
Engine Details
-
Fuel Consumption:
-
Cruising Speed:
-
Max Speed:
-
Locations
| | |
| --- | --- |
| Winter Area: | Caribbean Virgin Islands |
| Summer Area: | Caribbean Virgin Islands |
---
Amenities
| | |
| --- | --- |
| Salon Tv/VCR: | Yes |
| Salon Stereo: | Yes |
| Sat Tv: | - |
| # of Videos: | Array |
| # DVDs/Movies: | - |
| # CD's: | - |
| Camcorder: | - |
| Books: | - |
| Board Games: | Yes |
| Sun Awning: | - |
| Deck Shower: | - |
| Bimini: | - |
| Water Maker: | Yes |
| | |
| --- | --- |
| Special Diets: | Yes |
| Kosher: | No |
| BBQ: | Yes |
| # Dine In: | 10 |
| Minimum Age: | Water Safe |
| Generator: | - |
| Inverter: | Yes |
| Voltages: | - |
| Water Maker: | Yes |
| Water Cap: | - |
| Ice Maker: | Yes |
| Sailing Instructions: | No |
| Internet Access: | Onboard WIFI |
| | |
| --- | --- |
| Gay Charters: | No |
| Nude: | No |
| Hairdryers: | Yes |
| # Port Hatches: | - |
| Guests Smokes: | - |
| Crew Smokes: | No |
| Pets Aboard: | No |
| Pet Type: | - |
| Guest Pets: | No |
| Children Ok: | Yes |
| Hammock: | - |
| Windscoops: | - |
---
Water Sports
| | |
| --- | --- |
| Dinghy size: | 15' |
| Dinghy hp: | 60 |
| Dinghy # pax: | 10 |
| Water Skis Adult: | Yes |
| Water Skis Kids: | No |
| Jet Skis: | No |
| Wave Runners: | No |
| Kneeboard: | Yes |
| Windsurfer: | No |
| Snorkel Gear: | Yes |
| Tube: | Yes |
| | |
| --- | --- |
| Scurfer: | - |
| Wake Board: | Yes |
| Kayaks 1 Pax: | - |
| Kayaks (2 Pax): | Yes |
| Floating Mats: | Yes |
| Swim Platform: | yes |
| Boarding Ladder (Loc/Type): | Aft |
| Sailing Dinghy: | No |
| Beach Games: | No |
| Fishing Gear: | Yes |
| Gear Type: | Light Tackle |
| Rods: | - |
Brad and Cathy met over 21 years ago when Brads' Gunnery Sergeant, who happened to be Cathy's uncle, ordered Brad to call his niece and take her out on a date. It seems to have taken! They both grew up boating, waterskiing, hunting, fishing, and four-wheeling in the beautiful outdoors of Idaho, which they continue doing together in the off season in Montana. They love to ride their Harley Davidson and to travel as much as possible. In addition to travel, Brad and Cathy enjoy running and in 2010 completed the Seattle Marathon in record slow time! This experience led them to believe anything is possible as long as you put one foot forward.

Cathy has always enjoyed cooking and Brad has benefited from it greatly! She had a custom wedding cake business in Idaho which she excelled at. With both of their large families and Cathy's joy in putting on large holiday and birthday gatherings, she is well versed in cooking a varied menu for all types of appetites. Whether you want a Caribbean style, or a Montana flavored meal she can custom design the meals to your desires.

Brad first recognized a keen interest for water sports while working on his Eagle Scout Badge. Feeling more at home on water than on land, being on a boat is definitely his "Happy Place." Brad and Cathy's passion for sailing grew out of a trip to Tahiti where they became acquainted with the cruising life. Coming home to Idaho they bought their first sailboat in a used car lot and taught themselves to sail on mountain lakes.

Trading that first boat for a larger one, they attended a liveaboard ASA certification course in San Diego and shortly thereafter sailed the new boat in the Sea of Cortez. Yearning for larger sailing grounds, Brad and Cathy relocated to the Pacific Northwest to chase the sailing dream and sailed extensively in Puget Sound, the San Juan and Canadian Gulf Islands and up into Desolation Sound. They lived aboard their own 42' sailboat for 5 years when, wanting to share their love of sailing, they opened and operated a successful vacation property and day-charter business on San Juan Island. After becoming "empty-nesters" they realized their dream of living where "the weather suits their clothes," and continue to enjoy the chartering, hospitality, and the sailing lifestyle in the Caribbean!

Brad and Cathy are very family oriented and enjoy seeing happy families and kids having fun. They thrive in the Caribbean on finding the right adventures to suit the desires of the families that come down to sail on Karizma. Let them know what you want to do while in the Caribbean and they will custom plan the trip to check off all the boxes. Whether it is a quiet bay all to yourselves, or a busy anchorage full of other boats to watch, they will make sure you spend your time exactly the way you want.







| | | | | | |
| --- | --- | --- | --- | --- | --- |
| Season | 2 Pax | 3 Pax | 4 Pax | 5 Pax | 6 Pax |
| Winter 2017/2018 | $16,000 | $16,500 | $17,000 | $17,500 | $18,000 |
| Summer 2017 | $16,000 | $16,500 | $17,000 | $17,500 | $18,000 |
| Winter 2018/2019 | $16,000 | $16,500 | $17,000 | $17,500 | $18,000 |
(15 December -30 April)
Caribbean Virgin Islands
(1 May - 14 December)
Caribbean Virgin Islands
| | | | | | | | | | | | | | | | | | | | | | | | | | | | | | | | |
| --- | --- | --- | --- | --- | --- | --- | --- | --- | --- | --- | --- | --- | --- | --- | --- | --- | --- | --- | --- | --- | --- | --- | --- | --- | --- | --- | --- | --- | --- | --- | --- |
| Oct 2017 | 1 | 2 | 3 | 4 | 5 | 6 | 7 | 8 | 9 | 10 | 11 | 12 | 13 | 14 | 15 | 16 | 17 | 18 | 19 | 20 | 21 | 22 | 23 | 24 | 25 | 26 | 27 | 28 | 29 | 30 | 31 |
| Nov 2017 | 1 | 2 | 3 | 4 | 5 | 6 | 7 | 8 | 9 | 10 | 11 | 12 | 13 | 14 | 15 | 16 | 17 | 18 | 19 | 20 | 21 | 22 | 23 | 24 | 25 | 26 | 27 | 28 | 29 | 30 | |
| Dec 2017 | 1 | 2 | 3 | 4 | 5 | 6 | 7 | 8 | 9 | 10 | 11 | 12 | 13 | 14 | 15 | 16 | 17 | 18 | 19 | 20 | 21 | 22 | 23 | 24 | 25 | 26 | 27 | 28 | 29 | 30 | 31 |
| Jan 2018 | 1 | 2 | 3 | 4 | 5 | 6 | 7 | 8 | 9 | 10 | 11 | 12 | 13 | 14 | 15 | 16 | 17 | 18 | 19 | 20 | 21 | 22 | 23 | 24 | 25 | 26 | 27 | 28 | 29 | 30 | 31 |
| Feb 2018 | 1 | 2 | 3 | 4 | 5 | 6 | 7 | 8 | 9 | 10 | 11 | 12 | 13 | 14 | 15 | 16 | 17 | 18 | 19 | 20 | 21 | 22 | 23 | 24 | 25 | 26 | 27 | 28 | | | |
| Mar 2018 | 1 | 2 | 3 | 4 | 5 | 6 | 7 | 8 | 9 | 10 | 11 | 12 | 13 | 14 | 15 | 16 | 17 | 18 | 19 | 20 | 21 | 22 | 23 | 24 | 25 | 26 | 27 | 28 | 29 | 30 | 31 |
| Apr 2018 | 1 | 2 | 3 | 4 | 5 | 6 | 7 | 8 | 9 | 10 | 11 | 12 | 13 | 14 | 15 | 16 | 17 | 18 | 19 | 20 | 21 | 22 | 23 | 24 | 25 | 26 | 27 | 28 | 29 | 30 | |
| May 2018 | 1 | 2 | 3 | 4 | 5 | 6 | 7 | 8 | 9 | 10 | 11 | 12 | 13 | 14 | 15 | 16 | 17 | 18 | 19 | 20 | 21 | 22 | 23 | 24 | 25 | 26 | 27 | 28 | 29 | 30 | 31 |
| Jun 2018 | 1 | 2 | 3 | 4 | 5 | 6 | 7 | 8 | 9 | 10 | 11 | 12 | 13 | 14 | 15 | 16 | 17 | 18 | 19 | 20 | 21 | 22 | 23 | 24 | 25 | 26 | 27 | 28 | 29 | 30 | |
| Jul 2018 | 1 | 2 | 3 | 4 | 5 | 6 | 7 | 8 | 9 | 10 | 11 | 12 | 13 | 14 | 15 | 16 | 17 | 18 | 19 | 20 | 21 | 22 | 23 | 24 | 25 | 26 | 27 | 28 | 29 | 30 | 31 |
| Aug 2018 | 1 | 2 | 3 | 4 | 5 | 6 | 7 | 8 | 9 | 10 | 11 | 12 | 13 | 14 | 15 | 16 | 17 | 18 | 19 | 20 | 21 | 22 | 23 | 24 | 25 | 26 | 27 | 28 | 29 | 30 | 31 |
| Sep 2018 | 1 | 2 | 3 | 4 | 5 | 6 | 7 | 8 | 9 | 10 | 11 | 12 | 13 | 14 | 15 | 16 | 17 | 18 | 19 | 20 | 21 | 22 | 23 | 24 | 25 | 26 | 27 | 28 | 29 | 30 | |
---