LA MANGUITA
$23,500 - $31,000 / WEEK
BUILT/REFIT
YEAR
June 2015
---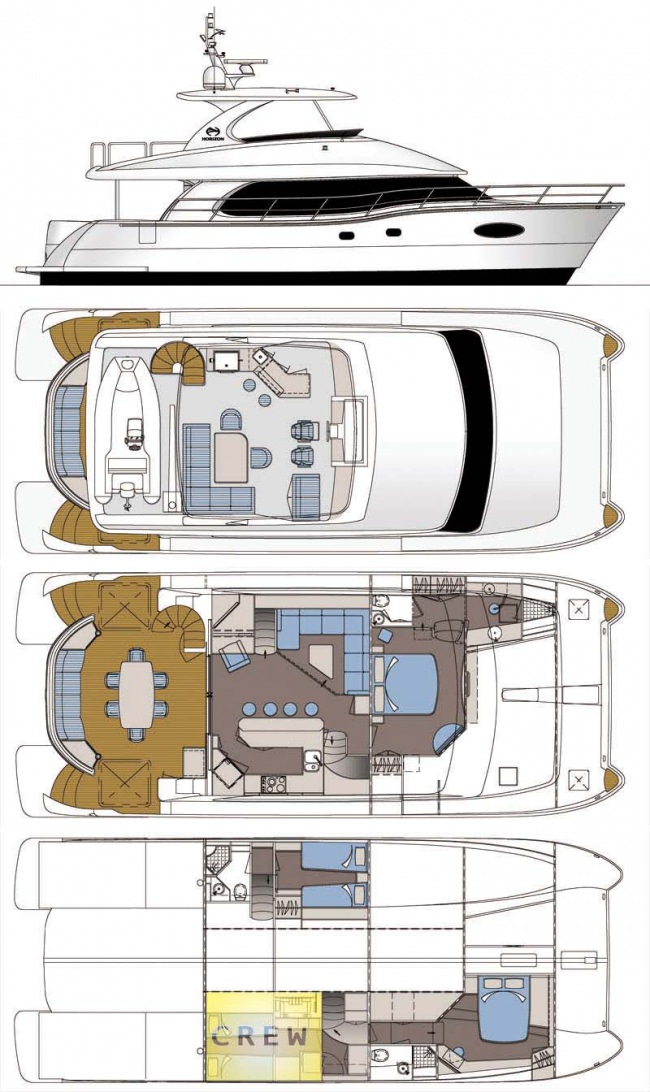 Boat Details
| | |
| --- | --- |
| Cabins: | 3 |
| Queen: | 1 |
| Single Cabins: | 1 |
| Showers: | 3 |
| Wash Basins: | 4 |
| Heads: | 3 |
| Electric Heads: | 3 |
Pick Up Locations
| | |
| --- | --- |
| Pref. Pick-up: | Nassau Bahamas |
| Other Pick-up: | Bahamas |
---
Details
| | |
| --- | --- |
| Refit: | June 2015 |
| Helipad: | No |
| Jacuzzi: | No |
| A/C: | Full |
Engine Details
Engines: 2 x Caterpillar 715s Cruise Speed: 18 Knots & Max Speed: 24 knots Consumption at Cruising: 18 knots � 40 gallons/hour 15 knots � 33 gallons/hour 8 knots � 8 gallons/hour Main Generator 21Kw Back-up Generator 7.5Kw
Fuel Consumption:
45
Cruising Speed:
18
Max Speed:
24US Gall/Hr
Locations
| | |
| --- | --- |
| Winter Area: | Bahamas |
| Summer Area: | Bahamas |
---
Amenities
| | |
| --- | --- |
| Salon Tv/VCR: | Yes |
| Salon Stereo: | Yes |
| Sat Tv: | Printer onboard |
| # of Videos: | - |
| # DVDs/Movies: | Lots |
| # CD's: | - |
| Camcorder: | No |
| Books: | - |
| Board Games: | Yes |
| Sun Awning: | Yes |
| Deck Shower: | Yes |
| Bimini: | Yes |
| Water Maker: | - |
| | |
| --- | --- |
| Special Diets: | Yes |
| Kosher: | No |
| BBQ: | Yes |
| # Dine In: | 8 |
| Minimum Age: | 5 |
| Generator: | 21Kw plus 7.5Kw |
| Inverter: | Yes |
| Voltages: | 220v/110v/24v |
| Water Maker: | - |
| Water Cap: | - |
| Ice Maker: | Yes |
| Sailing Instructions: | - |
| Internet Access: | Onboard WIFI |
| | |
| --- | --- |
| Gay Charters: | Yes |
| Nude: | No |
| Hairdryers: | Yes |
| # Port Hatches: | 6 |
| Guests Smokes: | Transoms only pls |
| Crew Smokes: | No |
| Pets Aboard: | No |
| Pet Type: | N/A |
| Guest Pets: | No |
| Children Ok: | Yes |
| Hammock: | No |
| Windscoops: | No |
---
Water Sports
| | |
| --- | --- |
| Dinghy size: | 15 ft |
| Dinghy hp: | 70 |
| Dinghy # pax: | 9 |
| Water Skis Adult: | Yes |
| Water Skis Kids: | Yes |
| Jet Skis: | No |
| Wave Runners: | No |
| Kneeboard: | 1 |
| Windsurfer: | - |
| Snorkel Gear: | Yes |
| Tube: | 2 |
| | |
| --- | --- |
| Scurfer: | - |
| Wake Board: | 1 |
| Kayaks 1 Pax: | - |
| Kayaks (2 Pax): | No |
| Floating Mats: | Yes |
| Swim Platform: | 2 |
| Boarding Ladder (Loc/Type): | Stern/easy |
| Sailing Dinghy: | - |
| Beach Games: | Yes |
| Fishing Gear: | Yes |
| Gear Type: | Trolling & deep sea |
| Rods: | 4 |
Captain: Adam Bentley
Chef: Kelly Slater

Captain Adam has been a part of the yachting industry for past 9 years. With a full panoply of RYA certificates in his pocket, he and Chef/Mate Kelly joined LA MANGUITA for a new adventure in October 2014.

Adam has been the Captain on numerous charter yachts in Cape Town, Caribbean and Med. Before chartering yachts, he has Captained delivery new build yachts from Cape Town to the Med and the Caribbean. Adam holds over 100,000 nm experience. Adam was also a sailing and power yacht instructor.

Adam is a determined individual who is passionate about sailing, life and people. Always communicative and open towards new acquaintances and experiences, Adam is committed to make each and every charter aboard an unforgettable experience. With strong interpersonal skills and excellent client service, he adapts easily to every working environment. Easy-going and ever the optimist, Adam loves traveling and sports, such as snorkeling wake boarding, fishing, golf, swimming and snowboarding.

Chef/Mate Kelly is a native South African and a young, fun loving and ambitious individual sharing the same passions as her partner. She has been chartering with Adam in the Caribbean and the Med for the last 3 years. Kelly offers an innovative blend of Italian - Asian cuisine, infused with local herbs & Caribbean influences, offering an unexpected dining experience. Kelly loves the open water, sailing, snorkeling & anything to do with cooking. Aboard luxury catamaran yachts is where Kelly has found her niche. Kelly trained at the prestigious Ashburton Chefs Academy in Devon, England. She also has a degree in human resources, organizational psychology and labour law from the University of Cape Town, and her vast work and travel experience make her a valuable crew member on LA MANGUITA.

Kelly has a strong yachting background, having worked on charter yachts, as a Chef/Mate with Adam for the past 3 years. Kelly is an avid sailor, having done 6 Atlantic crossings. She has over 35,000 nm experience. Kelly has excellent interpersonal skills and her sociable and outgoing personality are the reasons she finds herself excelling in the hospitality business.


| | | | | | |
| --- | --- | --- | --- | --- | --- |
| Season | 2 Pax | 3 Pax | 4 Pax | 5 Pax | 6 Pax |
| Winter 2017 to 2018 | $23,500 | $24,500 | $24,500 | $25,500 | $25,500 |
| Summer 2017 | $23,500 | $24,500 | $24,500 | $25,500 | $25,500 |
| Winter 2018 to 2019 | $23,500 | $24,500 | $24,500 | $25,500 | $25,500 |
(15 December -30 April)
Bahamas
(1 May - 14 December)
Bahamas
| | | | | | | | | | | | | | | | | | | | | | | | | | | | | | | | |
| --- | --- | --- | --- | --- | --- | --- | --- | --- | --- | --- | --- | --- | --- | --- | --- | --- | --- | --- | --- | --- | --- | --- | --- | --- | --- | --- | --- | --- | --- | --- | --- |
| Dec 2017 | 1 | 2 | 3 | 4 | 5 | 6 | 7 | 8 | 9 | 10 | 11 | 12 | 13 | 14 | 15 | 16 | 17 | 18 | 19 | 20 | 21 | 22 | 23 | 24 | 25 | 26 | 27 | 28 | 29 | 30 | 31 |
| Jan 2018 | 1 | 2 | 3 | 4 | 5 | 6 | 7 | 8 | 9 | 10 | 11 | 12 | 13 | 14 | 15 | 16 | 17 | 18 | 19 | 20 | 21 | 22 | 23 | 24 | 25 | 26 | 27 | 28 | 29 | 30 | 31 |
| Feb 2018 | 1 | 2 | 3 | 4 | 5 | 6 | 7 | 8 | 9 | 10 | 11 | 12 | 13 | 14 | 15 | 16 | 17 | 18 | 19 | 20 | 21 | 22 | 23 | 24 | 25 | 26 | 27 | 28 | | | |
| Mar 2018 | 1 | 2 | 3 | 4 | 5 | 6 | 7 | 8 | 9 | 10 | 11 | 12 | 13 | 14 | 15 | 16 | 17 | 18 | 19 | 20 | 21 | 22 | 23 | 24 | 25 | 26 | 27 | 28 | 29 | 30 | 31 |
| Apr 2018 | 1 | 2 | 3 | 4 | 5 | 6 | 7 | 8 | 9 | 10 | 11 | 12 | 13 | 14 | 15 | 16 | 17 | 18 | 19 | 20 | 21 | 22 | 23 | 24 | 25 | 26 | 27 | 28 | 29 | 30 | |
| May 2018 | 1 | 2 | 3 | 4 | 5 | 6 | 7 | 8 | 9 | 10 | 11 | 12 | 13 | 14 | 15 | 16 | 17 | 18 | 19 | 20 | 21 | 22 | 23 | 24 | 25 | 26 | 27 | 28 | 29 | 30 | 31 |
| Jun 2018 | 1 | 2 | 3 | 4 | 5 | 6 | 7 | 8 | 9 | 10 | 11 | 12 | 13 | 14 | 15 | 16 | 17 | 18 | 19 | 20 | 21 | 22 | 23 | 24 | 25 | 26 | 27 | 28 | 29 | 30 | |
| Jul 2018 | 1 | 2 | 3 | 4 | 5 | 6 | 7 | 8 | 9 | 10 | 11 | 12 | 13 | 14 | 15 | 16 | 17 | 18 | 19 | 20 | 21 | 22 | 23 | 24 | 25 | 26 | 27 | 28 | 29 | 30 | 31 |
| Aug 2018 | 1 | 2 | 3 | 4 | 5 | 6 | 7 | 8 | 9 | 10 | 11 | 12 | 13 | 14 | 15 | 16 | 17 | 18 | 19 | 20 | 21 | 22 | 23 | 24 | 25 | 26 | 27 | 28 | 29 | 30 | 31 |
| Sep 2018 | 1 | 2 | 3 | 4 | 5 | 6 | 7 | 8 | 9 | 10 | 11 | 12 | 13 | 14 | 15 | 16 | 17 | 18 | 19 | 20 | 21 | 22 | 23 | 24 | 25 | 26 | 27 | 28 | 29 | 30 | |
| Oct 2018 | 1 | 2 | 3 | 4 | 5 | 6 | 7 | 8 | 9 | 10 | 11 | 12 | 13 | 14 | 15 | 16 | 17 | 18 | 19 | 20 | 21 | 22 | 23 | 24 | 25 | 26 | 27 | 28 | 29 | 30 | 31 |
| Nov 2018 | 1 | 2 | 3 | 4 | 5 | 6 | 7 | 8 | 9 | 10 | 11 | 12 | 13 | 14 | 15 | 16 | 17 | 18 | 19 | 20 | 21 | 22 | 23 | 24 | 25 | 26 | 27 | 28 | 29 | 30 | |
---