ELYSIUM
$25,000 - $28,500 / WEEK
---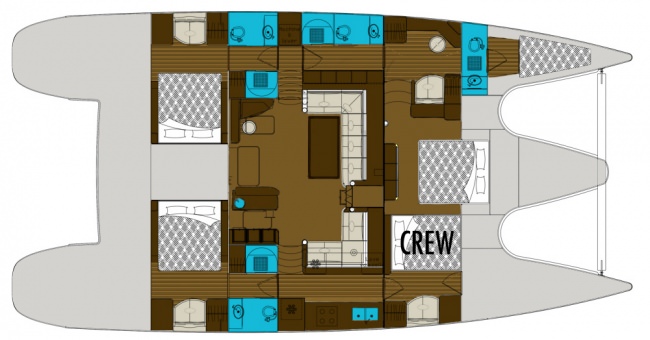 Boat Details
| | |
| --- | --- |
| Cabins: | 4 |
| Queen: | - |
| Single Cabins: | 1 |
| Showers: | 5 |
| Wash Basins: | - |
| Heads: | 5 |
| Electric Heads: | 5 |
Pick Up Locations
| | |
| --- | --- |
| Pref. Pick-up: | RH, STT |
| Other Pick-up: | Any STT or BVI |
---
Details
| | |
| --- | --- |
| Refit: | - |
| Helipad: | - |
| Jacuzzi: | No |
| A/C: | Full |
Engine Details
Engine : 2 x 180 HP YANMAR - Electric Voltage : 220 V - Generators : 2 x 13,5 KVA ONAN + Cocon - Water tank : 2 X 500 Gallons Fuel tank : 2 X 500 Gallons
Fuel Consumption:
4
Cruising Speed:
10
Max Speed:
12US Gall/Hr
Locations
| | |
| --- | --- |
| Winter Area: | Caribbean Virgin Islands, Caribbean Leewards, Caribbean Windwards |
| Summer Area: | Caribbean Virgin Islands, Caribbean Leewards, Caribbean Windwards |
---
Amenities
Salon Tv/VCR:
Yes
Salon Stereo:
Yes
Sat Tv:
WIFI, Apple TV and Direct TV available
2 VHF + 1 cordless VHF


# of Videos:
Array
# DVDs/Movies:
AppleTV
# CD's:
Yes
Camcorder:
No
Books:
Yes
Board Games:
Yes
Sun Awning:
Yes
Deck Shower:
Yes
Bimini:
Yes
Water Maker:
-
| | |
| --- | --- |
| Special Diets: | Yes |
| Kosher: | No |
| BBQ: | Yes |
| # Dine In: | Yes |
| Minimum Age: | None |
| Generator: | 2x 13.5kva |
| Inverter: | 10,000w |
| Voltages: | 220v |
| Water Maker: | - |
| Water Cap: | - |
| Ice Maker: | Yes |
| Sailing Instructions: | No |
| Internet Access: | Onboard WIFI |
| | |
| --- | --- |
| Gay Charters: | Yes |
| Nude: | Yes |
| Hairdryers: | Yes |
| # Port Hatches: | 26 |
| Guests Smokes: | transom only |
| Crew Smokes: | No |
| Pets Aboard: | No |
| Pet Type: | - |
| Guest Pets: | No |
| Children Ok: | Yes |
| Hammock: | Yes |
| Windscoops: | No |
---
Water Sports
| | |
| --- | --- |
| Dinghy size: | 15' Apex Deluxe - Yamaha Outboard |
| Dinghy hp: | 70 |
| Dinghy # pax: | 8 |
| Water Skis Adult: | Yes |
| Water Skis Kids: | No |
| Jet Skis: | No |
| Wave Runners: | No |
| Kneeboard: | 1 |
| Windsurfer: | No |
| Snorkel Gear: | Yes |
| Tube: | Yes |
| | |
| --- | --- |
| Scurfer: | No |
| Wake Board: | 1 |
| Kayaks 1 Pax: | No |
| Kayaks (2 Pax): | 1 |
| Floating Mats: | Yes |
| Swim Platform: | Yes |
| Boarding Ladder (Loc/Type): | 2 |
| Sailing Dinghy: | No |
| Beach Games: | Yes |
| Fishing Gear: | Yes |
| Gear Type: | Trolling & Casting |
| Rods: | 2 Each |
Dirk and Nina-Sue both grew up in the Cape wine lands of South Africa only 10min away from the Atlantic ocean. Having known each other for 7 years their journey started at a traditional South African BBQ over a glass of Chenin Blanc. Most of their childhood memories is on the coast surfing, fishing, diving and eating lots and lots of crayfish. The ocean has always been a place that made us feel humble, inspired and salty all at once.

Dirk and Nina-Sue together started one of the most wonderful jungle adventures sailing in Panama, Bocas Del Toro, the thick rain forest and the San Blas Islands with the Kuna tribe culture and traditions. They made their way through the Panama Canal into the Pacific where they had a very special experience doing whale watching charters.

Captain Dirk has been sailing professionally for 8 years, in which he has done 7 Atlantic crossings and more than 70 000nm. He started diving at a young age of 12 and got his Dive Masters in Mozambique where he worked as Dive Master for a while before returning to the sea. With a strong sense of marine engineering, Dirk spent the last year as a maintenance manager for a BVI charter company and hopes to finish a marine engineering ticket in the next couple of years. He loves teaching guests sailing. Being a surfer, he has had great success teaching guests how to skurf behind the tender. Although he is a keen fisherman he is not the biggest one on the boat, that would-be Nina-Sue.

Chef Nina-Sue grew up on a wine farm with a big family who have always been passionate food and wine lovers. On the farm, they not only had grapes but also fresh organic vegetables and there was always space for an herb garden and a good harvest. Her dad has always been a good fisherman so a fresh tuna or yellow-tail was a treat.

Nina-Sue attended a top-notch cooking school in South-Africa where she earned a culinary certificate. She also studied dramatic arts and worked in the entertaining industry for a while before she started traveling the world and sailing the seas. Nina-Sue is an advanced diver and absolutely in love with the underwater aquatic wonderland life. Dirk and Nina-Sue are both super exited to be onboard Elysium, she is a true beauty! They have a saying..mi casa su casa.."my home your home"!

| | | | | | |
| --- | --- | --- | --- | --- | --- |
| Season | 2 Pax | 3 Pax | 4 Pax | 5 Pax | 6 Pax |
| Summer 2017 | $25,000 | $25,750 | $26,500 | $27,250 | $28,000 |
| Winter 2017 to 2018 | $25,000 | $25,750 | $26,500 | $27,250 | $28,000 |
| Summer 2018 | $25,000 | $25,750 | $26,500 | $27,250 | $28,000 |
(15 December -30 April)
Caribbean Virgin Islands, Caribbean Leewards, Caribbean Windwards
(1 May - 14 December)
Caribbean Virgin Islands, Caribbean Leewards, Caribbean Windwards
| | | | | | | | | | | | | | | | | | | | | | | | | | | | | | | | |
| --- | --- | --- | --- | --- | --- | --- | --- | --- | --- | --- | --- | --- | --- | --- | --- | --- | --- | --- | --- | --- | --- | --- | --- | --- | --- | --- | --- | --- | --- | --- | --- |
| Dec 2017 | 1 | 2 | 3 | 4 | 5 | 6 | 7 | 8 | 9 | 10 | 11 | 12 | 13 | 14 | 15 | 16 | 17 | 18 | 19 | 20 | 21 | 22 | 23 | 24 | 25 | 26 | 27 | 28 | 29 | 30 | 31 |
| Jan 2018 | 1 | 2 | 3 | 4 | 5 | 6 | 7 | 8 | 9 | 10 | 11 | 12 | 13 | 14 | 15 | 16 | 17 | 18 | 19 | 20 | 21 | 22 | 23 | 24 | 25 | 26 | 27 | 28 | 29 | 30 | 31 |
| Feb 2018 | 1 | 2 | 3 | 4 | 5 | 6 | 7 | 8 | 9 | 10 | 11 | 12 | 13 | 14 | 15 | 16 | 17 | 18 | 19 | 20 | 21 | 22 | 23 | 24 | 25 | 26 | 27 | 28 | | | |
| Mar 2018 | 1 | 2 | 3 | 4 | 5 | 6 | 7 | 8 | 9 | 10 | 11 | 12 | 13 | 14 | 15 | 16 | 17 | 18 | 19 | 20 | 21 | 22 | 23 | 24 | 25 | 26 | 27 | 28 | 29 | 30 | 31 |
| Apr 2018 | 1 | 2 | 3 | 4 | 5 | 6 | 7 | 8 | 9 | 10 | 11 | 12 | 13 | 14 | 15 | 16 | 17 | 18 | 19 | 20 | 21 | 22 | 23 | 24 | 25 | 26 | 27 | 28 | 29 | 30 | |
| May 2018 | 1 | 2 | 3 | 4 | 5 | 6 | 7 | 8 | 9 | 10 | 11 | 12 | 13 | 14 | 15 | 16 | 17 | 18 | 19 | 20 | 21 | 22 | 23 | 24 | 25 | 26 | 27 | 28 | 29 | 30 | 31 |
| Jun 2018 | 1 | 2 | 3 | 4 | 5 | 6 | 7 | 8 | 9 | 10 | 11 | 12 | 13 | 14 | 15 | 16 | 17 | 18 | 19 | 20 | 21 | 22 | 23 | 24 | 25 | 26 | 27 | 28 | 29 | 30 | |
| Jul 2018 | 1 | 2 | 3 | 4 | 5 | 6 | 7 | 8 | 9 | 10 | 11 | 12 | 13 | 14 | 15 | 16 | 17 | 18 | 19 | 20 | 21 | 22 | 23 | 24 | 25 | 26 | 27 | 28 | 29 | 30 | 31 |
| Aug 2018 | 1 | 2 | 3 | 4 | 5 | 6 | 7 | 8 | 9 | 10 | 11 | 12 | 13 | 14 | 15 | 16 | 17 | 18 | 19 | 20 | 21 | 22 | 23 | 24 | 25 | 26 | 27 | 28 | 29 | 30 | 31 |
| Sep 2018 | 1 | 2 | 3 | 4 | 5 | 6 | 7 | 8 | 9 | 10 | 11 | 12 | 13 | 14 | 15 | 16 | 17 | 18 | 19 | 20 | 21 | 22 | 23 | 24 | 25 | 26 | 27 | 28 | 29 | 30 | |
| Oct 2018 | 1 | 2 | 3 | 4 | 5 | 6 | 7 | 8 | 9 | 10 | 11 | 12 | 13 | 14 | 15 | 16 | 17 | 18 | 19 | 20 | 21 | 22 | 23 | 24 | 25 | 26 | 27 | 28 | 29 | 30 | 31 |
| Nov 2018 | 1 | 2 | 3 | 4 | 5 | 6 | 7 | 8 | 9 | 10 | 11 | 12 | 13 | 14 | 15 | 16 | 17 | 18 | 19 | 20 | 21 | 22 | 23 | 24 | 25 | 26 | 27 | 28 | 29 | 30 | |
---